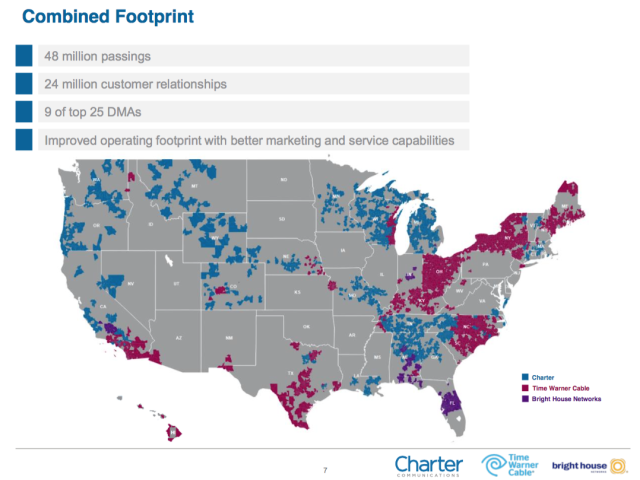 Merely a month after the FCC finally nixed the TWC/Comcast deal, Charter Communications has struck a contract to buy its larger rival Time Warner Cable (TWC) for $56.7 billion, a partnership that would make it the nation's second largest broadband provider after Comcast, the companies announced today.
Charter also announced a related $10.4 billion deal to buy Bright House Networks, a smaller cable company–which only slightly adds to their lead.
The merged company would leapfrog AT&T into second place with 19 million Internet subscribers. Comcast has 22 million while AT&T has 16 million. The post-merger Charter would have 17 million pay-TV customers, behind Comcast and DirecTV, as well as 9 million phone customers. Overall, Charter would serve 24 million customers in over 40 states after the proposed merger.
Charter today is the fourth biggest cable company after Comcast, Time Warner Cable, and Cox.
Comcast apparently supports Charter's purchase of TWC. "This deal makes all the sense in the world. I would like to congratulate all the parties," Comcast CEO Brian Roberts said in a statement sent to news organizations.
But while a bigger Charter would rival Comcast in terms of broadband and TV subscribers, it will argue that it would not pose the same competitive dangers as the failed Comcast/Time Warner Cable merger. The Federal Communications Commission and Justice Department prevented Comcast from buying TWC, saying the increased subscriber base combined with its ownership of NBC and other programmers would increase its incentive to discriminate against online video services that rely on its broadband network.
While TWC owns some regional sports networks, Charter pointed out in a presentation that "Charter owns no programming interests."
"I'm confident our proposed transaction will obtain approval from regulators," Charter CEO Tom Rutledge said in a conference call with investors, according to Katy on the Hill. "This is a very different transaction." Compared to Comcast/TWC, the proposed Charter/TWC merger is "significantly smaller without any vertical integration concerns," added TWC CEO Rob Marcus.
By gaining size, Charter would have greater negotiating power over programming networks that need to strike carriage deals to reach Charter's cable TV customers.
Still have to pass the FCC
But that doesn't mean it's a slam dunk. The companies have to prove to the FCC that the merger will benefit consumers, not just that it won't harm them. FCC Chairman Tom Wheeler issued a statement today saying that, "The FCC reviews every merger on its merits and determines whether it would be in the public interest. In applying the public interest test, an absence of harm is not sufficient. The Commission will look to see how American consumers would benefit if the deal were to be approved."
Charter said it will "deliver superior customer care" and bring faster speeds to TWC subscribers.
"Charter's slowest speed tier (60Mbps downstream) is considerably faster and less expensive than TWC's comparable tiers, with no data caps or usage based pricing," Charter's presentation said. "Charter will bring these products and pricing to TWC and BHN [Bright House Networks] customers, while embracing TWC's and BHN's rollouts of a 300Mbps tier."
While Comcast has been involved in high-profile interconnection disputes that harmed the quality of Netflix and other Internet services, Charter said it "will continue to invest in interconnection to minimize likelihood of congestion.
Categories: DISH & TV news